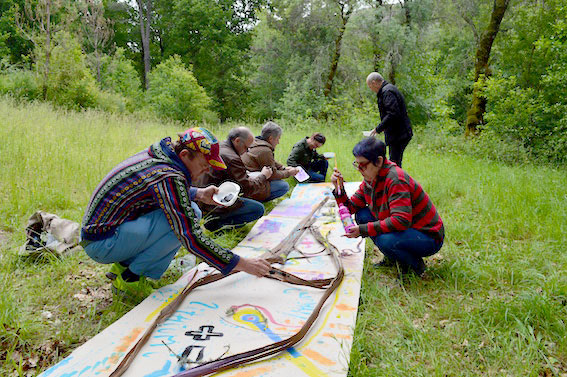 2019
SEIA---Lithium-Session
(photo by Rik Lina)
Jan Giliam
(Rhenen, 1965) is a Dutch visual artist. He makes his drawings and paintings mostly on paper and on glass. In his kiln he fuses different layers of glass at high temperatures. To reduce the ecological footprint Giliam started to up-cycle glass. In his recent work he re-uses old window panes and bottles.
→ resume
Jan Giliam often works with other artists. He works often with Rik Lina and the poets and artists of the Cabo Mondego Section of Portuguese Surrealism.
To master the art of glass fusion, Giliam followed classes at the Bohle Glass Academy in Germany, after which he took private lessons from the Dutch glass artist Bert Grotjohann. During the Glass Heap Challenge 2014 in Eindhoven he met the Swiss artist Daniel Gaemperle. Together they painted various window panes in enamel. The challenge to make art from used glass inspired Giliam to use heat resistant markers to draw on used windows, bottles and glass-panels and fuse his drawings into glass.
Jan Giliam studied Visual Arts, Pedagogy and Mathematics in Amsterdam (NL) graduating in 1988. To improve and refresh his skills Jan Giliam went to the Digital Pioneers Academy for innovative Internet initiatives in 2007. A few years later he graduated from the Amsterdam Gameskool in Game Design and Education. Once a week Giliam challenges children to develop skills in visual arts, gamedesign, 3d-design, coding and other creative millennium skills.
A network is a mode or inquiry for Jan Giliam. A way to investigate his position as an artist through networks (people, things). He creates a moving cultural web through his work, by collaborations with schools, cultural institutions and other artists, in which he mediates through his aesthetics and his ability to be (digitally) interactive, i.e. involving others in it. On the one hand, Giliam wants to open up culture through concepts, conversations and aesthetics and on the other, he uses his own visual language (his drawings, paintings and glass works) to tighten and, when possible, to deploy. His work thus acts as a membrane: two poles, one aesthetic and singular, the other interactive and communicative.
Jan Giliam also helps authors and theater groups in reflecting their identity through websites and digital publications. And as a member of a group of committed artists and politicians he publishes articles about the necessity of art for democracy.
Jan Giliam lives with his wife and two sons in Amsterdam.
About his work, the artist says:
"Ensuing gestures and colour choice dictate the images that arise. I work out these images, drawing whatever presents itself to me, with no goal other than transmitting the impulse or desire of the moment, in an ecriture automatique. The very moment of metamorphosis appeals to me; when drawing a line, I follow the process. I let the line transform."









↑