Rik Lina and Jan Giliam show the result of
collective automatic painting

7 April 2018, 2 to 6 pm
+ onwards by appointment

CAPA Pop Up Gallery
3e Wittenburgerdwarsstraat 1-R
1018 KR Amsterdam, The Netherlands
RSVP giliam@xs4all.nl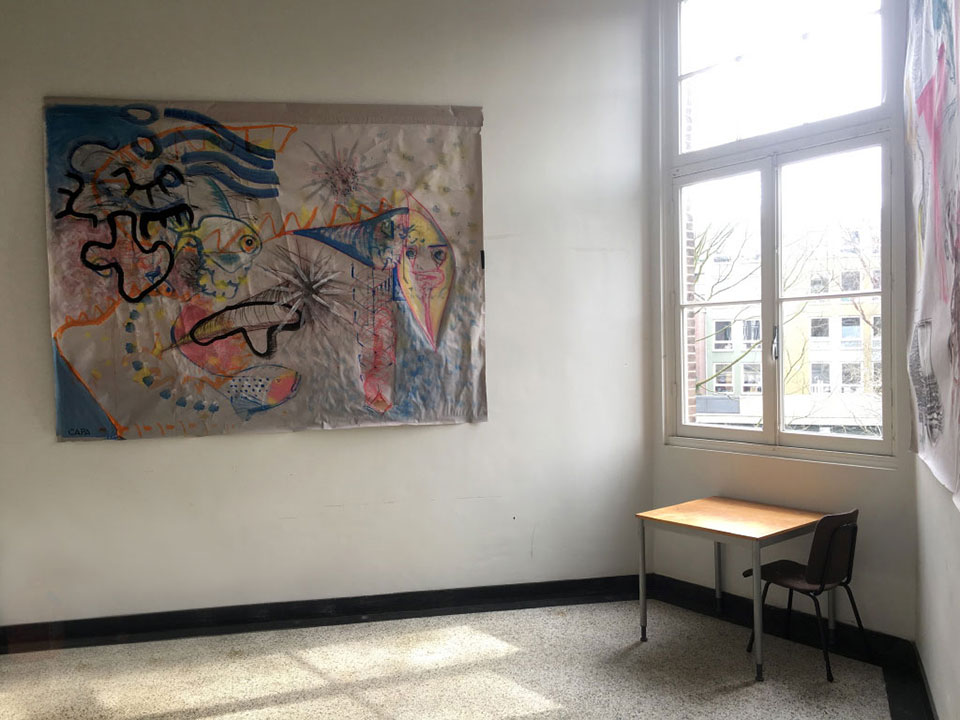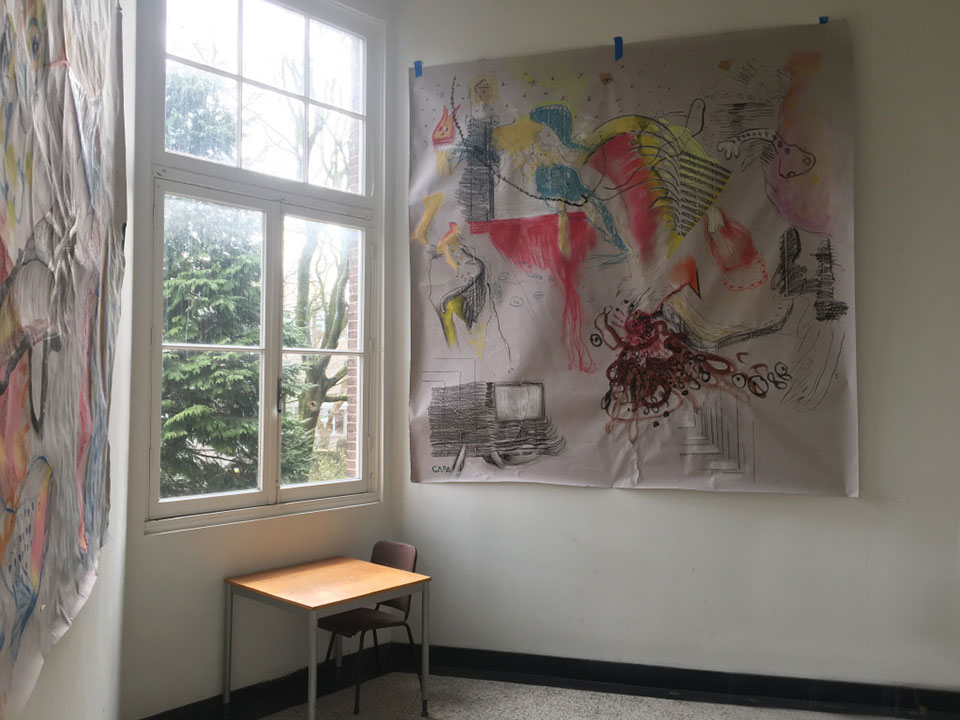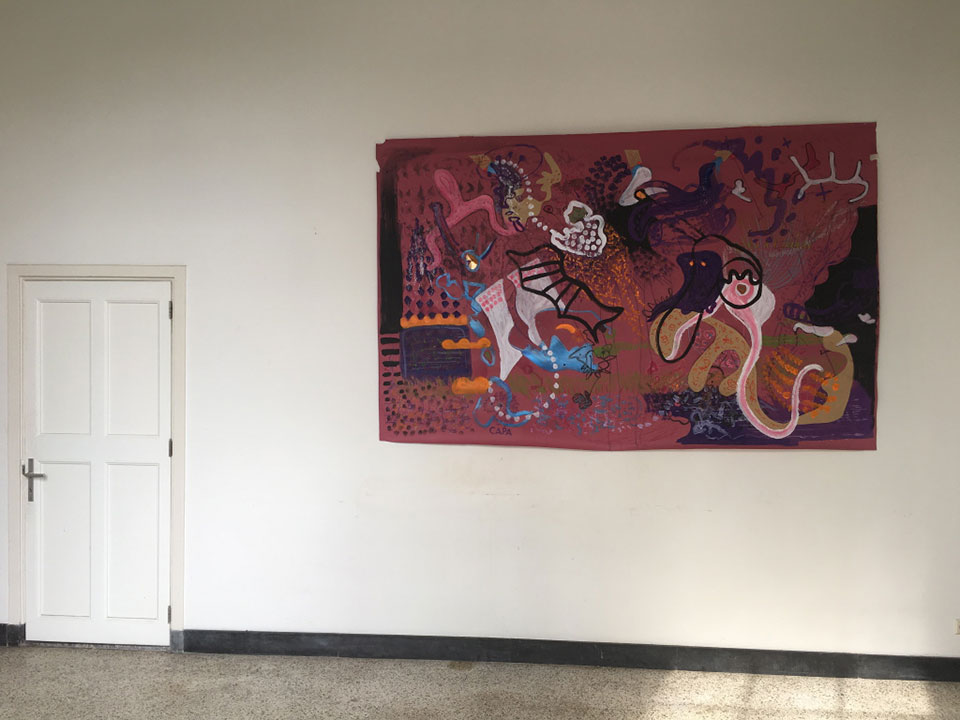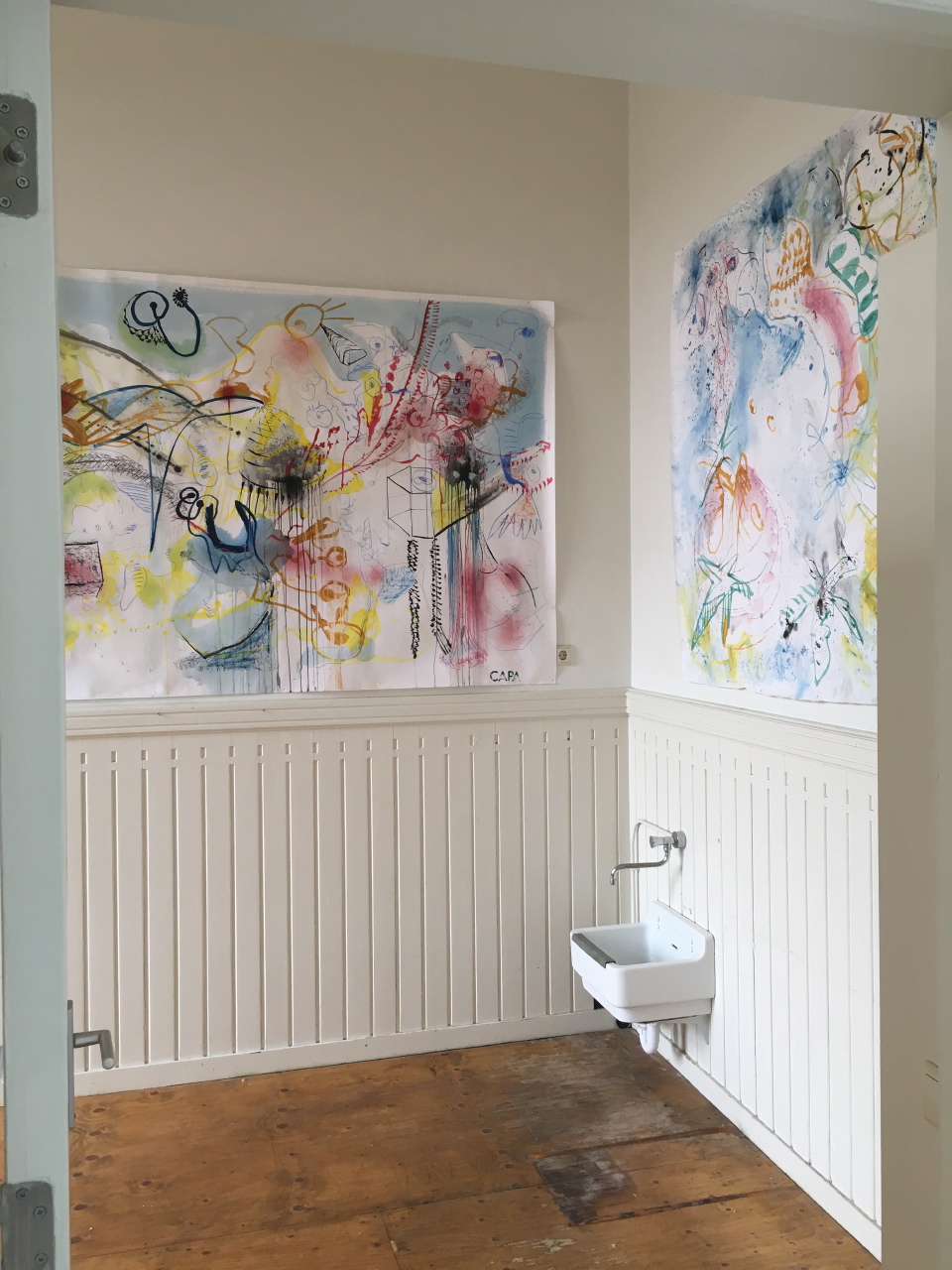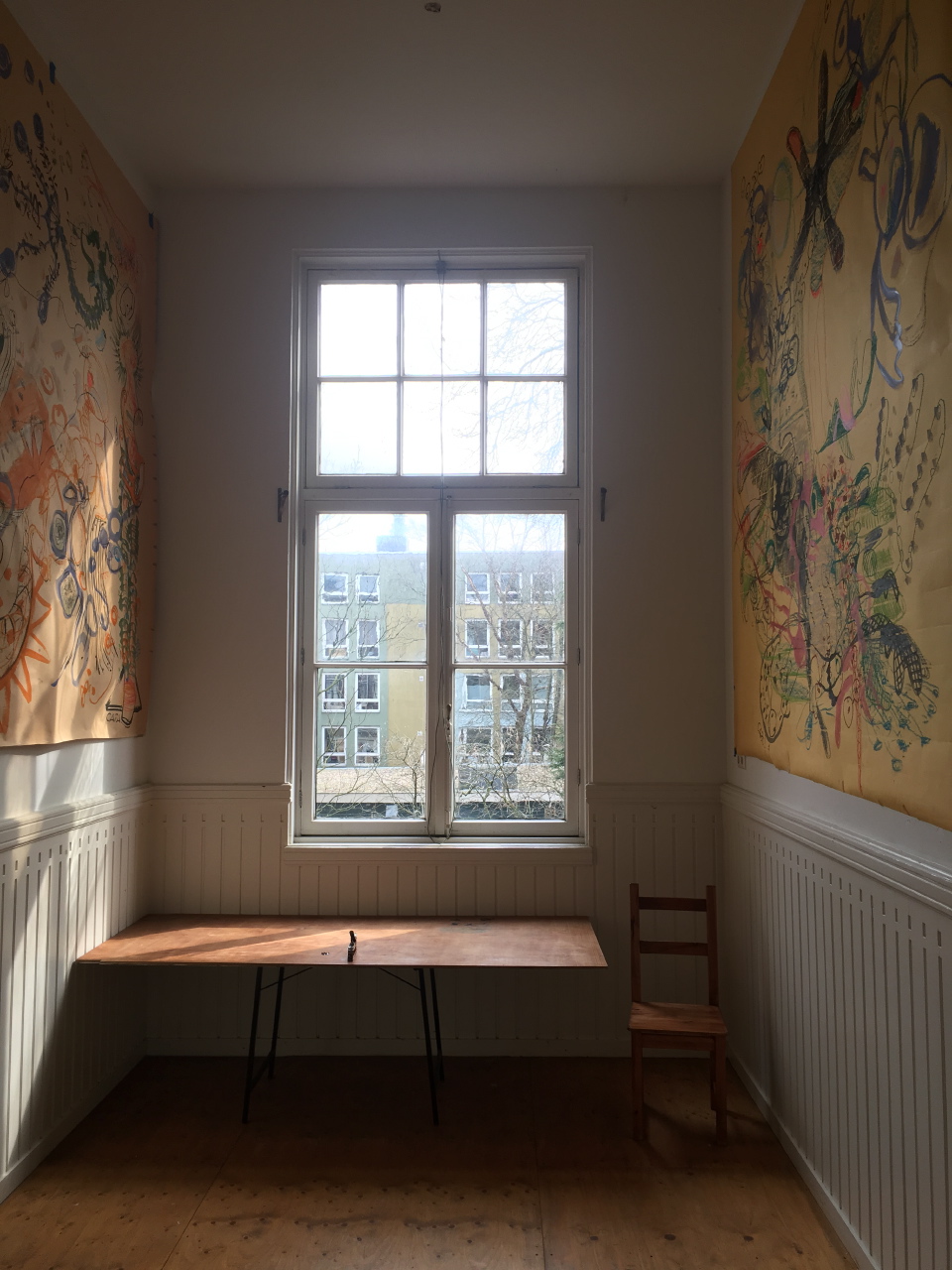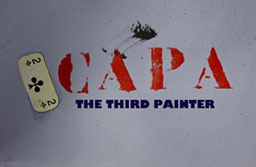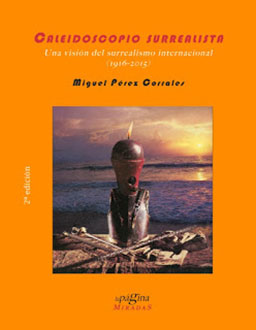 CAPA (= Collective Automatic Painting Amsterdam) is a group of artists who, besides their own creations, like to work collaboratively on paintings and drawings, sometimes accompanied by poetry or performance. The artist Rik Lina established the group in 1991. It had different members sharing the passion to paint together. Jan Giliam joined the group in 1996. Many cooperations followed. Main members of the group were Rik Lina, Dave Bobroske, and Jan Giliam. Some years they worked in groups of 6 to 8 artists. Since the death of the Canadian artist Dave Bobroske in 2013, the CAPA group is formed by only two Amsterdam-based members: Rik Lina, who lives and works in Portugal half the year, and Jan Giliam who works as a teacher half a week. CAPA is eager to cooperate with the Portugese group The Cabo Mondego Section. They work together around Coimbra and the coastal village of Figueira da Foz.
The artist groups CAPA and The Cabo Mondego Section are part of L'univers surréaliste. This International Movement of Surrealists is not a movement in art history. It is rather a network of friends who love automatism: to paint, draw or make poetry together, without any plan.
L'univers surréaliste is not widely known in The Netherlands and around. The only person still publishing from the Netherlands is the Brumes Blondes publisher Laurens Vancrevel.
→
read more on CAPA
→ read more about the International Movement of Surrealists on
José Miguel Pérez Corrales' blog
and in the book
"Caleidoscopio surrealista", 2ª edición
(pdf 57MB)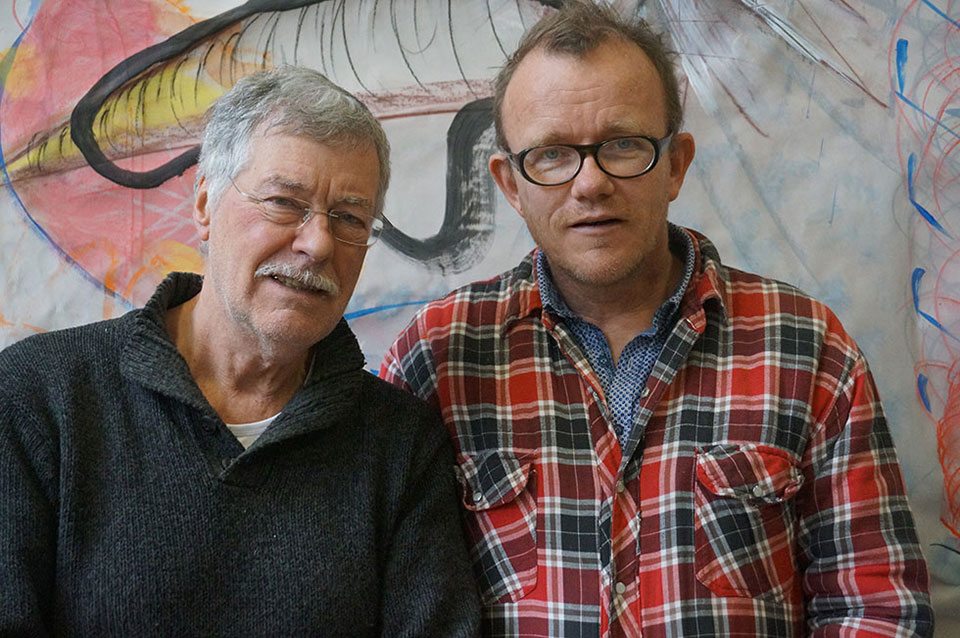 Automatic Painting and Synchronicity (by Jan Giliam)
When I collaborate with Rik Lina on drawing or painting, we work apart but together. We start drawing without any urge to win or to lose. Material and technique are prerequisites, just like a studio with music and coffee, or better, with Portugese wine and chouriço.
When we start to work there is no plan. Nothing is made up. While painting, the work-space becomes a medium to communicate with. It is a meeting in which we attempt to make contact with appearing images like at a séance, as though an unknown source fulfills the space. Forms take shape in the drawing and start to move. Limbs appear from ectoplasm, like intertwining fishes with liana. Sensuality appears within the forms; sometimes submarine landscapes or dense jungles. This is the world we have in common. We share a love for the sea and the woods. We both lived and worked in the Dutch Caribbean where we did scuba diving and jungle hikes for many years.
Our images full of forms, patterns and colours are not easy to transcribe into a message or meaning. We work more like shamans, entering a trance state during our ritual of automatic painting. While busy on this multidisciplinary activity I do not appeal to logical thinking, neither to my fantasy, nor to my technical or artistic skills. In automatic drawing it is important to get detached of any representation, giving freedom to recognize without search. I try to draw completely free. Until I am taken aback by something to be able to let go.
The process of drawing is a voyage of discovery along the individual worlds of the creators. Again and again I let go my lyrical desire to enhance collaboration and communication. This is collective automatic painting. A roller coaster. An eldorado.
Jan Giliam 2018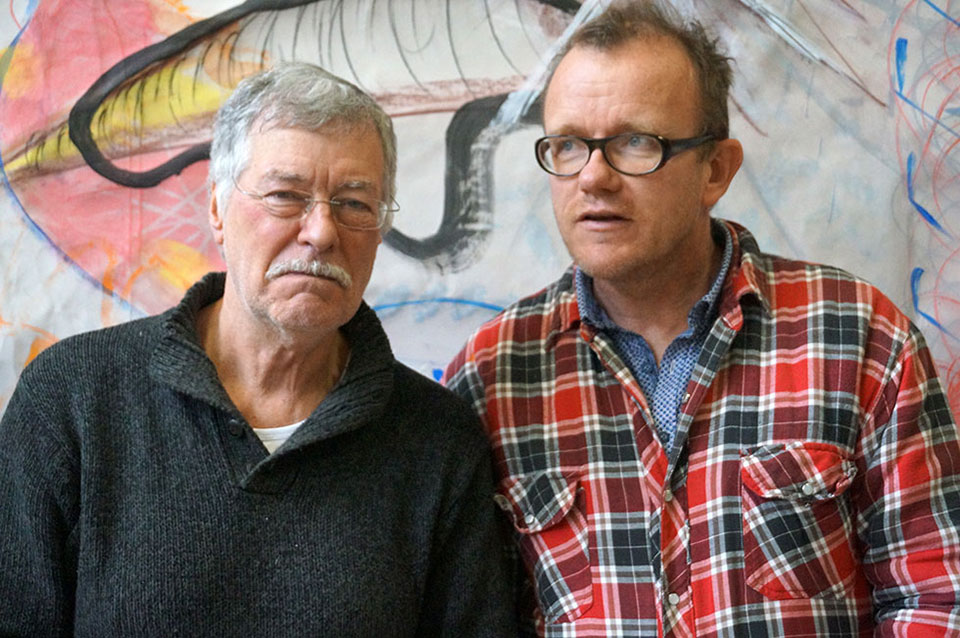 The third painter (by Rik Lina)
It is not so clear who is creating these works. The hands look like those of the makers but there are also other ones appearing suddenly which are defining the final image.
This property of collective automatism, in which the laws of personal and common "good taste" are being violated, creates strange often chaotic results.
A new kind of easthetics appears coming from the unconsciousness. Together with the combined impulses of the makers messages from the collective unconscious are slipping through.
Next these obviously "un-experienced memories" there happen to be our diving-experiences, because those are the ones that started us working together, a special "feeling for the deep sea", this strange feature coming slowly to the surface of human thinking these days.
Rik Lina 2018